Digital to Analogue Audio Converter Coaxial Coax Optical Toslink RCA L/R Adapter 760970040887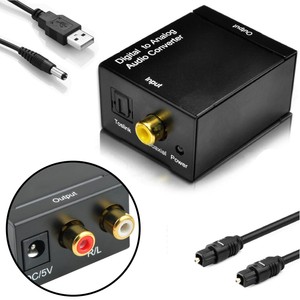 ---
HUL Channel  
Digital to Analog Audio Converter
Description
This Digital to Analog Audio Converter is designed for either home or professional audio switching. It converts Coaxial or Toslink digital audio signals to analogue L/R audio and available for connection to an external device such as an amplifier via standard RCA-style jacks. This Converter is small in size and quite easy to install.

Package and Include:1 X Digital to Analog Audio Converter1 X USB Power Cable1 X Toslink cable (Optical cable)1 X User Manual

 Input audio connector: 1 x Toslink, 1 x RCA (Coaxial) Output audio connector: 2 x RCA(R/L) Product size: 48x48x20mm (L-W-H) Weight: 75g

Features :Converts coaxial or Toslink digital audio signals to analogue L/R audio and connects to an external device such as an amplifier via standard RCA jacks.Supports uncompressed 2-channel LPCM digital audio signal output.Supports sampling rate at 32, 44.1, 48, and 96KHz.24-bit S/PDIF incoming bit stream on left and right channels.Provides electromagnetic-noise-free transmission.Easy to install and simple to operate.Compact size.Digital Optical Coaxial Toslink to Analog RCA Audio Converter (DG-OT3802 No retail package to save the cost and protect the environment. Only Works With USB Power No AC Adapter RequiredYour satisfaction is our highest priority.We are always glad to assist you and stand by our products
Payment Policy
Return Policy
You can use same envelop/packet to send us item back using ''Return To Sender'' option, its free 
Returned item must be unopened unused , in its original packing.
Shipping Policy
(Monday to Friday) 
We use Royal Mail 1st class service ,that aims to deliver next working day, However exceptions are always there!
EU orders shipped same day by standard international post to selected EU countries only, No tracking is available unless selected at checkout.99% orders are delivered with in 5-7 working days. but please wait 10 working days before contacting us.
Before placing your order Please make sure your delivery address is complete and updated , We are not liable for no delivery or late delivery due to address issues,
We dont offer combined shipping, as we pay per gram weight.
Feedback
  Behind these computers ,we are also human beings and may commit mistakes, or many other circumstances  like weather, bank holidays and postal services are involved so please contact us if you face any inconvenience.

We do our best to provide a smooth and pleasant online shopping experience, So please take 2 minutes to give us 5 Star positive feedback and write a 5 star review for our product,

 HUL Channel Copyright ©   HUL Channel