Mercedes Benz Instrument Cluster Pixel Display Repair Ribbon Cable W210 / W202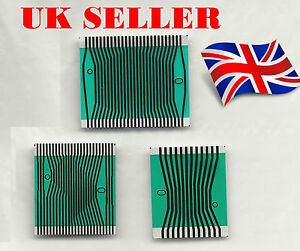 ---
 

For sale is the Mercedes Benz one set (consist of 3 pieces)  of new ribbon cables what you can find on W210/W202 series

Pixel problems may affect your ability to see your gear selection, clock or temperature gauges dependent on the vehicle.  

E-Class W210(1995-2002) : E200, E220D, E240, E290TD, E300TD, E200, E240, E280, E320, E420, E430C Class W202(1995-2000) : C200, C220, C270, C180, C200, C230, C220, C230, C280CLK Class - W208 (2000-2003) : CLK320, CLK430, CLK55 AMG

This is a Quality OEM replacement Ribbon Guaranteed to provide a Bright, Crisp Information Display Readout. All tracks are guaranteed to line up perfectly with the PCB Board.

Instructions not included but easy to find on internet.

Special Instructions Included :

To install this ribbon, you must use the T-Tip with at least a 40 Watt Iron. The T-Tip temperature must reach 210-300 Degrees Celsius; light pressure must be applied in order for the Ribbon to heat seal to the board properly.

We also sell T-TIP, see our other items

Price includes VAT. VAT receipt will be posted by email (PDF).