Piles/battery boutons lithium CR2032/2025/2016 Camelion , Free Shipping !!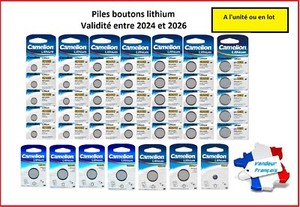 ---
Attention: the picture shows the blister 5 batteries, you then select the desired amount, 1 battery, 2 batteries, 5 batteries, etc ...Batteries Camelion lithium buttons, volume discount from 1 to 100 batteries. Expire between 2024 and 2026 according to the models and lots.Shipping orders within 24 hours for delivery between 48h / 72h. Free Shipping worldwide !!LithiumCR2032 / DL2032 / 5004LC / E-CR203220CR2025 / DL2025 / 5003LC / E-CR2025CR2016 / DL2016 / 5000LC / E-CR2016CR1216 / DL1216 / 5043LC / E-CR1216CR1220 / DL1220 / 5012LC / E-CR1220CR1225 / 5020LC / E-CR1220CR1616 / DL1616 / 5021LC / E-CR1616CR1620 / DL1620 / 5008LC / E-CR1620CR1632 3V LithiumCR2430 3V LithiumCR2450 3V Lithium replaces DL2450 / 5029LC / E-CR2450Replaces CR2320 3V Lithium Battery CR2320-ECR2330 3V LithiumCR927 3V LithiumReplaces CR2477 DL2477 / LM2477 / E-CR2477Why choose Camelion button cell? - Long life and conservation- Easy to maintain as blister- Use in many everyday devices, toys, gadgets, etc ...- The cheapest on the market!Manufacturing to European standardsTest the CAMELION brand, the cheapest battery market with a very long life !!Piles boutons Camélion lithium, remise quantitative de 1 à 100 piles. Expiration entre 2024et 2026 suivant les modèles et lots.Expédition des commandes sous 24h, pour une livraison entre 48h/72h. Free Shipping worldwide !!LithiumCR2032/DL2032/5004LC/E-CR203220CR2025/DL2025/5003LC/E-CR2025CR2016/DL2016/5000LC/E-CR2016CR1216/DL1216/5043LC/E-CR1216CR1220/DL1220/5012LC/E-CR1220CR1225/5020LC/E-CR1220CR1616/DL1616/5021LC/E-CR1616CR1620/DL1620/5008LC/E-CR1620CR1632 3V LithiumCR2430 3V LithiumCR2450 3V Lithium remplace DL2450/5029LC/E-CR2450CR2320 Remplace E-CR2320 3V LithiumCR2330 3V LithiumCR927 3V LithiumCR2477 Remplace DL2477/LM2477/E-CR2477

Pourquoi choisir la gamme Camélion ?

Très polyvalente, les piles boutons Alcalines Camelion remplacent les piles oxydes d'argent (plus performantes) de manière économique, on les retrouvent également dans une multitude de petits gadget ou petits jouets...- Longue durée de vie et de conservation- Facile à conserver sous le blister- Utilisation dans de nombreux appareils au quotidien, jouets, petits gadgets, etc...- Remplace les piles oxyde d'argent (plus performantes)- La moins chère du marché !Fabrication aux normes européenne.Testez la marque Camélion, la moins chère et plus performante du marché !!Pourquoi choisir Electro.Piles ?- Expédition des commandes sous 48h, du lundi au samedi.- SAV rapide et efficace du lundi au samedi, réponse sous 24h au maximum.- Satisfaction client (voir nos évaluations).- Réductions accordées si vous prenez plusieurs objets de notre boutique.- Expéditions de nos produits en lettres protégées.Retrouvez toute notre gamme en allant voir notre boutique en cliquant sur ce lien:Ma Boutique A très bientôt dans votre boutique Electro.Piles !!