Pokemon Go-Tcha Wristband for Pokemon Go Android iPhone AUTHENTIC Datel Gotcha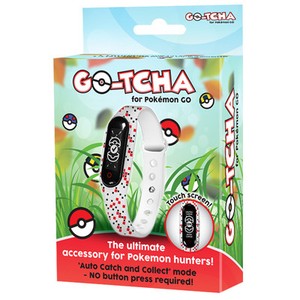 ---
***CUSTOMERS FROM MEXICO, CENTRAL AND SOUTH AMERICA, PLEASE NOTE THAT THE DATES THAT PUTS FOR ESTIMATED DELIVERY ARE NOT ACCURATE. IT TAKES A MINIMUM OF 8 WEEKS TO ARRIVE IN CHILE, PERU, COLUMBIA AND MEXICO DUE TO SLOW CUSTOMS AND SLOW LOCAL POSTAL DELIVERY. THERE IS NO REASONABLE SHIPPING AVAILABLE THAT INCLUDES TRACKING SO SHIPMENTS WILL BE MADE BY CANADA POST SMALL PACKET INTERNATIONAL AIR SERVICE WHICH DOES NOT HAVE A TRACKING NUMBER. IF THIS IS NOT ACCEPTABLE, PLEASE DO NOT ORDER. IF YOU DO ORDER, YOU MUST ACCEPT THAT IT WILL TAKE AT LEAST 8 WEEKS TO ARRIVE IN YOUR COUNTRY AND NOT OPEN CASES AND LEAVE NEGATIVE FEEDBACK BECAUSE THIS IS BEYOND OUR CONTROL.Hey, hands-off!

Play Pokémon Go on the move without looking at your smartphone, simply run the app on your phone in the background and tap the Go-tcha screen when it alerts you to Pokémon and PokéStops.

Go-tcha provides on-screen animated alerts and vibration feedback when Pokémon and PokéStops are near or caught and items collected.

Select 'auto-catch' and you don't even need to respond - Go-tcha will catch Pokémon and collect PokéStop items for you.

With it's rechargeable battery simply connect the display unit to a power source with the USB cable provided.

How do I use it?

Download the Go-tcha User Guide which tells you how to connect your Go-tcha and explains the animation screens. Choose to auto-catch Pokémon and collect items from Pokéstops, turn on/off vibration feedback and more.

FeaturesCatch Gen I and Gen II PokémonCollect Pokéstop items like Pokéballs, lucky eggs and lures'Auto-catch' modeTouch screen OLED displayAnimated graphicsVibration feedbackRequirementsPokémon Go Mobile Game AppDevice requires Bluetooth low-energy compatible smartphone.

Compatible with iPhone® 5 / 5c / 5s / SE / 6 / 6s / 6 Plus / 6s Plus / 7 / 7 Plus devices with iOS Ver. 8–10 installed. Compatible with Android devices with 2 GB RAM or more, Bluetooth Smart (Bluetooth Ver. 4.0 or higher) capability, and Android Ver. 4.4–6.0 installed.

THIS IS 100% AUTHENTIC DATEL MANUFACTURED GO-TCHA, NOT A KNOCK OFF FROM CHINA.  

Whats in the box?

Your GO-TCHA box will include:

x1 Go-tcha OLED Display Unitx1 Go-tcha White Wristbandx1 Go-tcha USB Charging CableTaxes will be charged for all Canadian customers dependent upon which province you are registered to.  I am a business seller so I must charge taxes for Canadian customers, no exceptions.